Diamond
Sophisticated elegance, pure luxury, unsurpassed quality, horse comfort and safety.
Built on the impressive Mercedes Benz Actros drivetrain, the Diamond offers a nothing-spared specification and features twin slide-out living, beautiful handcrafted leather trim and a fully air-conditioned interior that exudes sumptuous style.
OPTIMUM COMFORT AND SAFETY
Wade Equine's Diamond Series offers you and your horses the utmost in comfort, safety and performance.
We offer a high level of customisation, so together we can design and build a Diamond to suit your unique needs and style.
Overall length from 11,700mm x height 4250mm x width 2450mm
We had the most wonderful experience creating our dream equine coach with the Wade team. It was a long-held dream for our family, and we were lucky enough to visit the Wade premises in NZ just prior to the Covid pandemic. After the borders closed, the creative process remained exciting, fun, professional and seamless via zoom meetings. Alyssa and her team were so wonderful to work with. They were happy to pursue any requests we had, along with their exceptional expertise in planning & design which resulted in our dream equine coach. We were absolutely thrilled with the final result upon delivery to Sydney and continue to remain so on every trip. Every aspect, from storage to interior design was so incredibly well thought out. There is nothing I would change or wished I had done differently. Our truck was delivered through the Covid pandemic, and we were provided with incredible instructions in both print & video format. Every question or issue I had as I was becoming familiar with our vehicle was handled immediately over the phone and I was not only grateful but felt very confident and supported as a novice truck driver! Whilst it's unlikely that we'll need to create another dream truck anytime soon, as what we have is perfection in every way, if we do have the chance to repeat the process in the future, we would be straight back to Wade Equine coaches. Alyssa, Ross, and the Wade team work incredibly hard to be leaders in their industry and we cannot recommend them more highly.
Alison Newton 
Proud Owner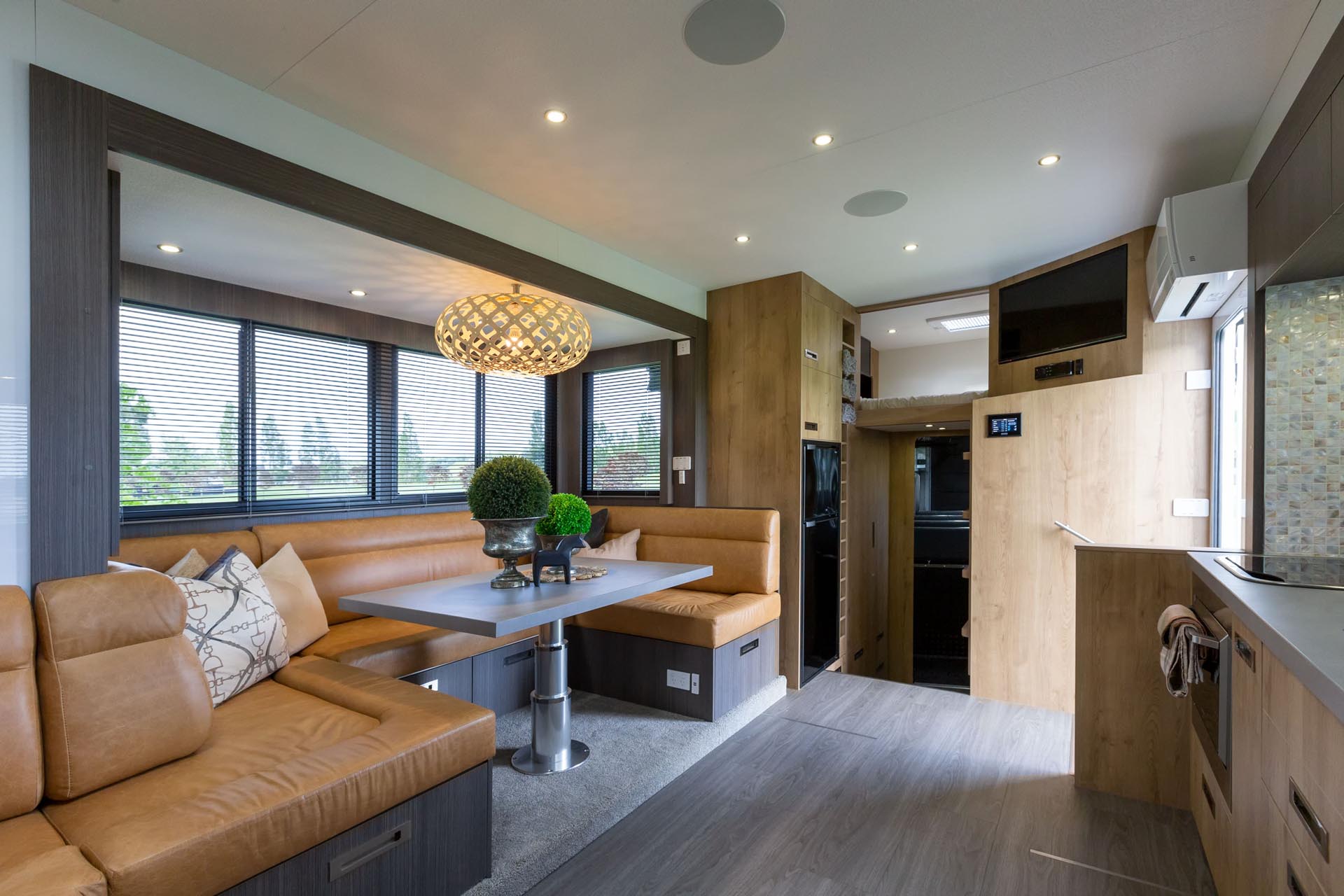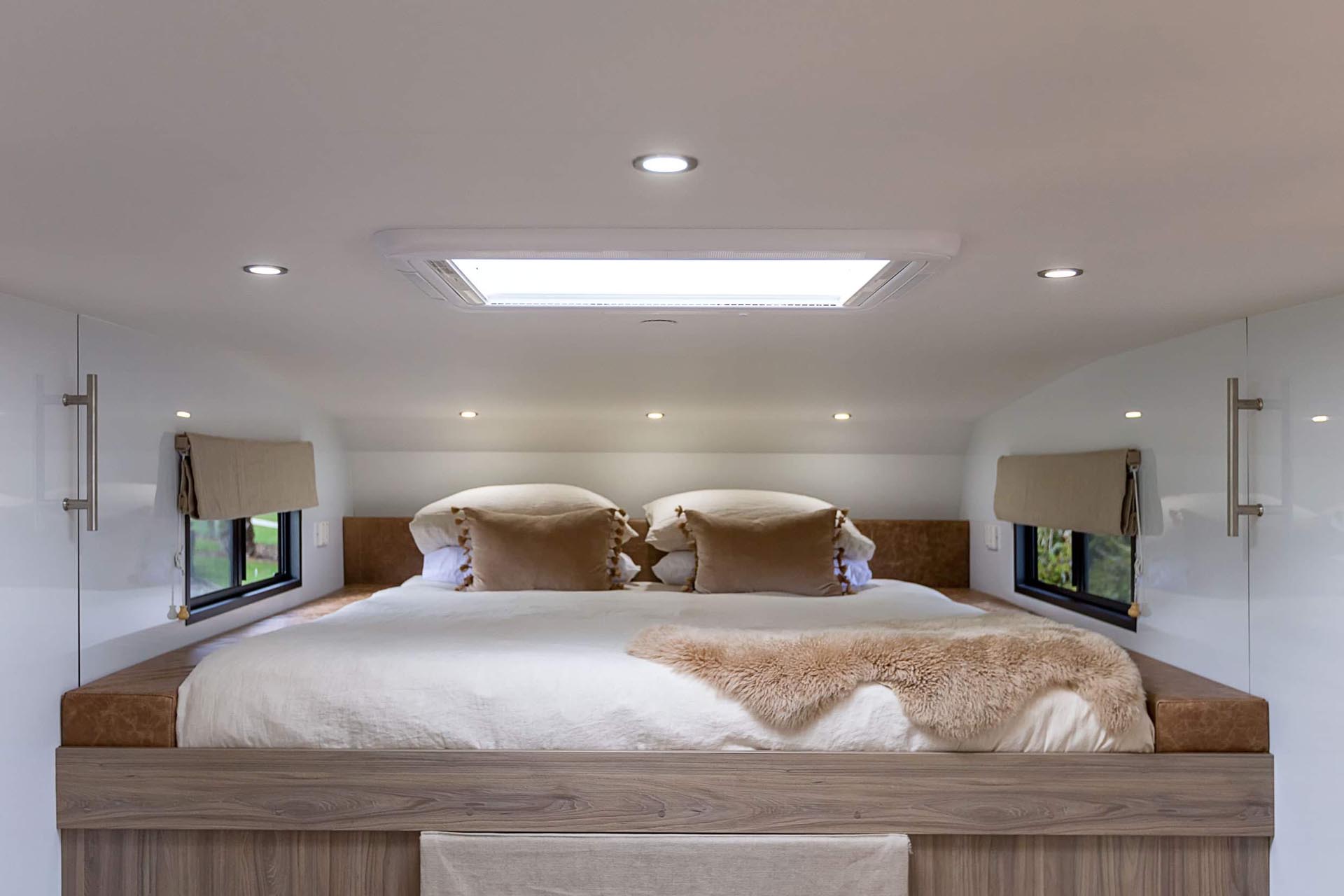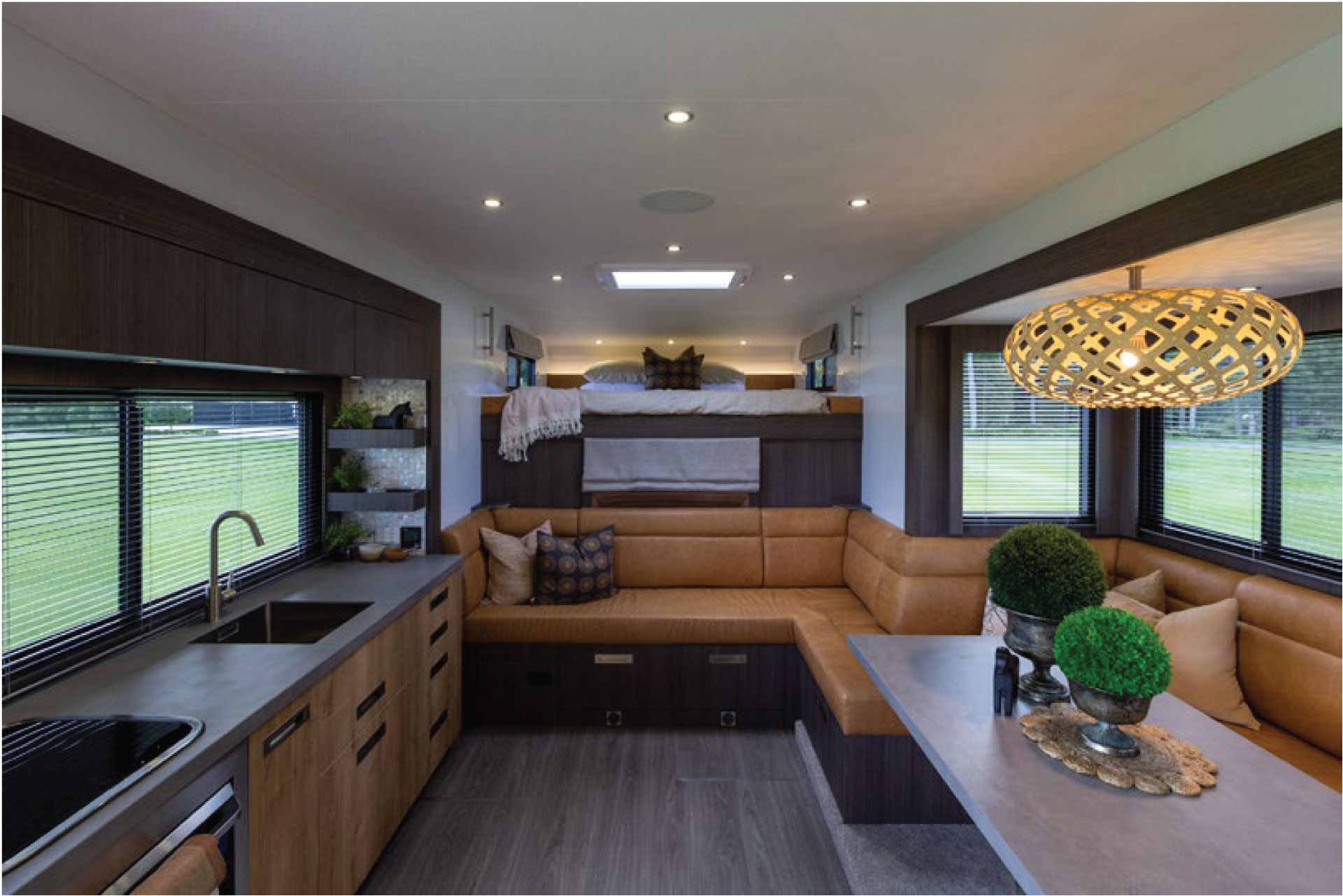 Highlights
Right hand slide out - table and seating for 8 guests which converts automatically to a double bed
Left hand slide out - kitchen
Luxurious super-king luton bed above cab
Queen sized bed pod above the lobby/ bathroom area with TV
Additional couch with under drawer storage
Push button automatic entrance step with courtesy lights
Window dressings / upholstery / bedding
Laminate cabinetry and composite stone
Combination convection oven-grill-microwave Large fridge / freezer
Television with automatic satellite dish
Fusion stereo with 2 Sonance living speakers and sub, 2 horse bay and 4 exterior
USB-C charging ports / 230-volt power points
Fly screens and roof mounted air vents
Spacious bathroom with separate shower, toilet and vanity
Full size washing machine / dryer
Cab crawl through and sound proofing
Certified seatbelts for 5 people includes 3 in cab Czone digital control and monitoring system with touch screen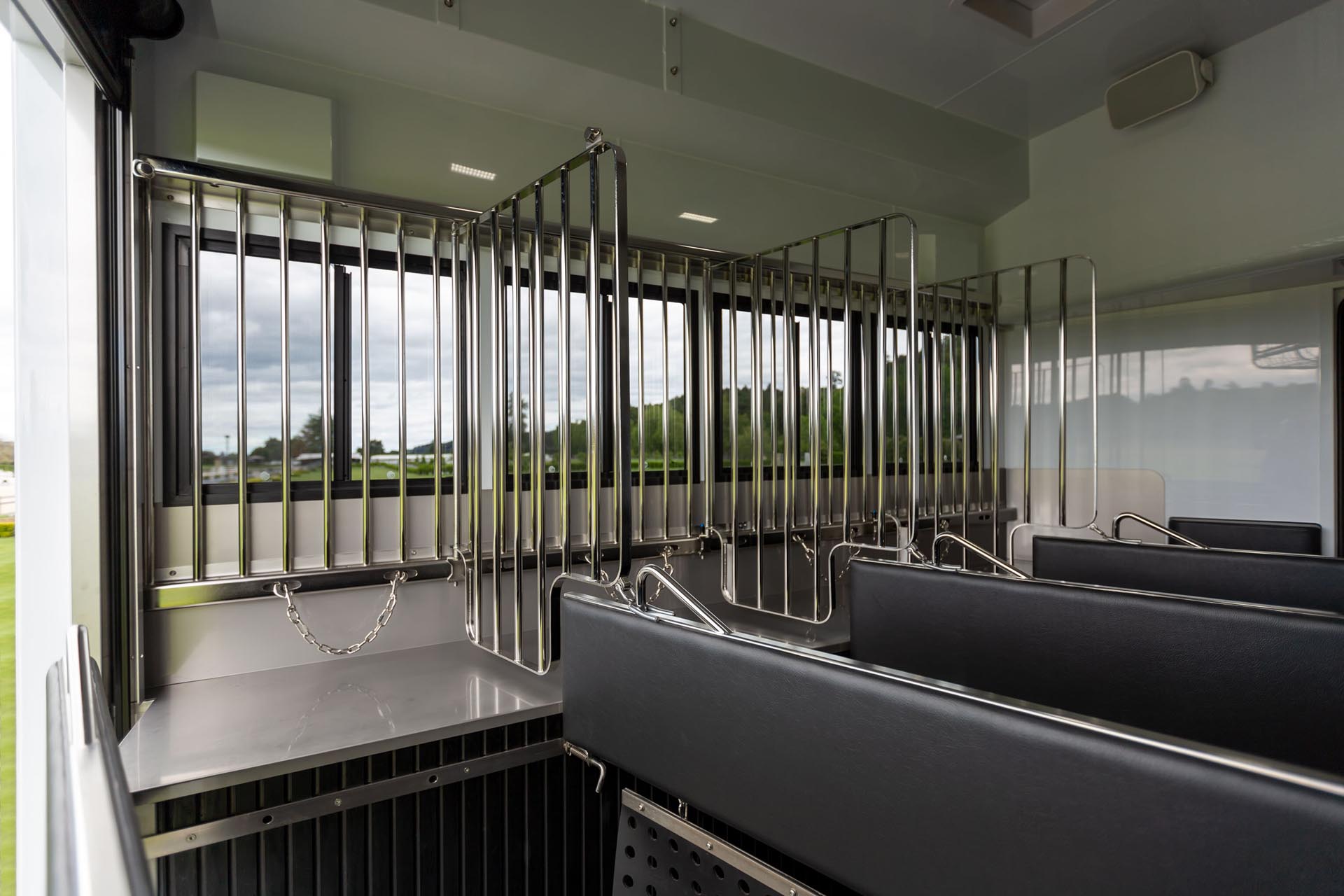 Highlights
New Era stainless steel multi-space partition system with padded gates
Full stainless steel horse bay fittings and surfaces
Durable rubber to door/ manger/ internal walls
Durable rubber to door/ manger/ internal walls
Heavy duty rubber cleated ramp surface Horse bay and reverse cameras through cab stereo
Remote control ceiling fans
Remote control ceiling fans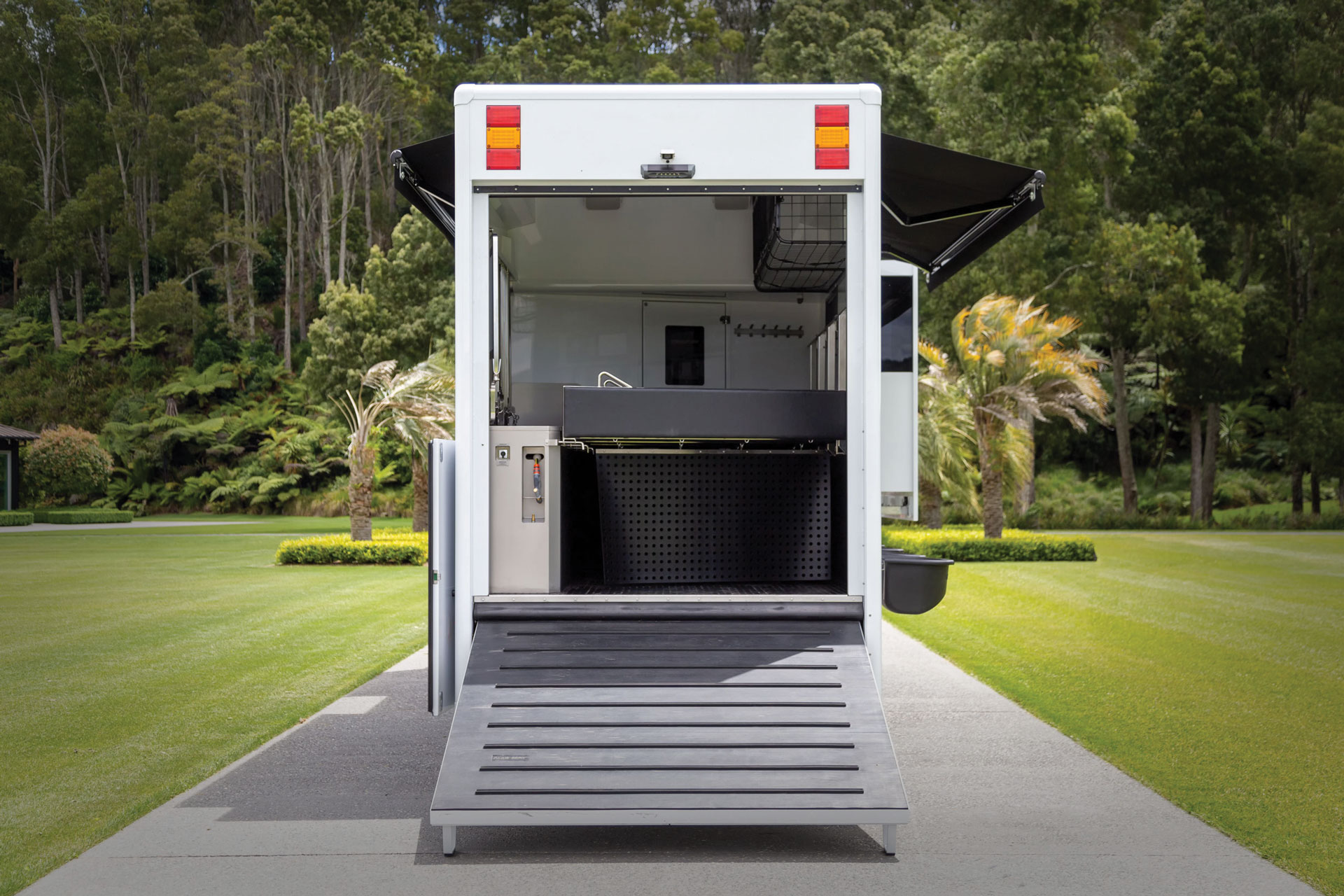 Highlights
Hydraulic luton lift / flush mounted
One touch tail gate lift system
Exterior 6 metre motorised awning with 3 metre projection
Stainless steel wheel trims
Exterior under living storage
Exterior full height tack locker to carry 6 saddles
Exterior skirt line storage lockers Exterior LED work lights
Mastervolt power supply components, with mains and generator input, 3kw inverter, large lithium ion battery capacity
Quiet Dometic 2.9kw generator with system control
Exterior stainless drawer fridge