Platinum
Luxurious in size with slide-out living, generous storage capacity and unsurpassed quality.
Wade Equine's Platinum Series embodies the right balance of practical space and sumptuous timeless interior style so you can perform at your best.
Our Platinum is a serious coach for serious riders. Built on powerful drivetrain options, the Platinum is generous in size with slide-out living, ample storage capacity and comfortable space for up to 6 horses.
We offer a high level of customisation, so together we can design and build a Platinum to suit your unique needs and style.
Overall length from 11,000mm x height 4250mm x width 2450mm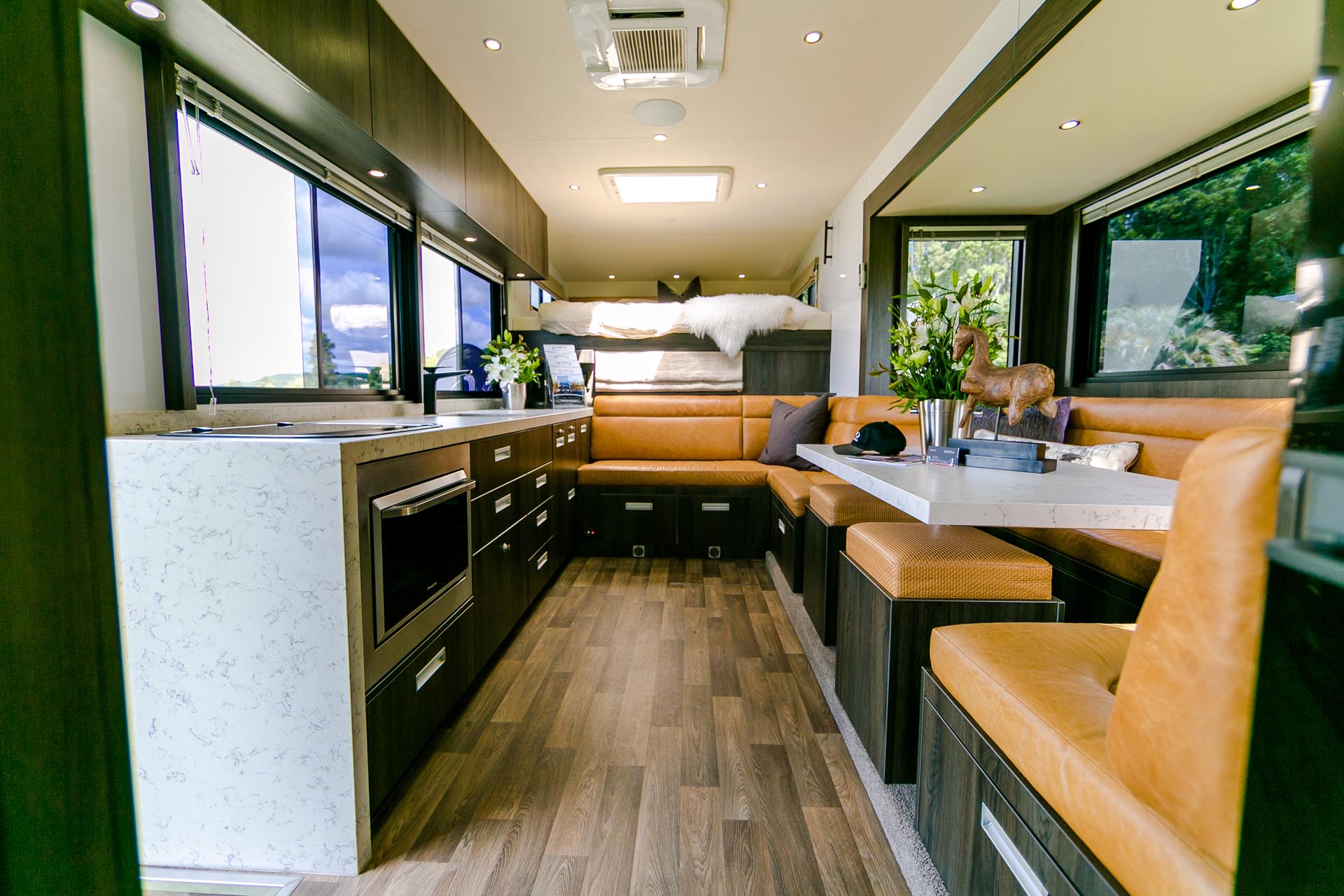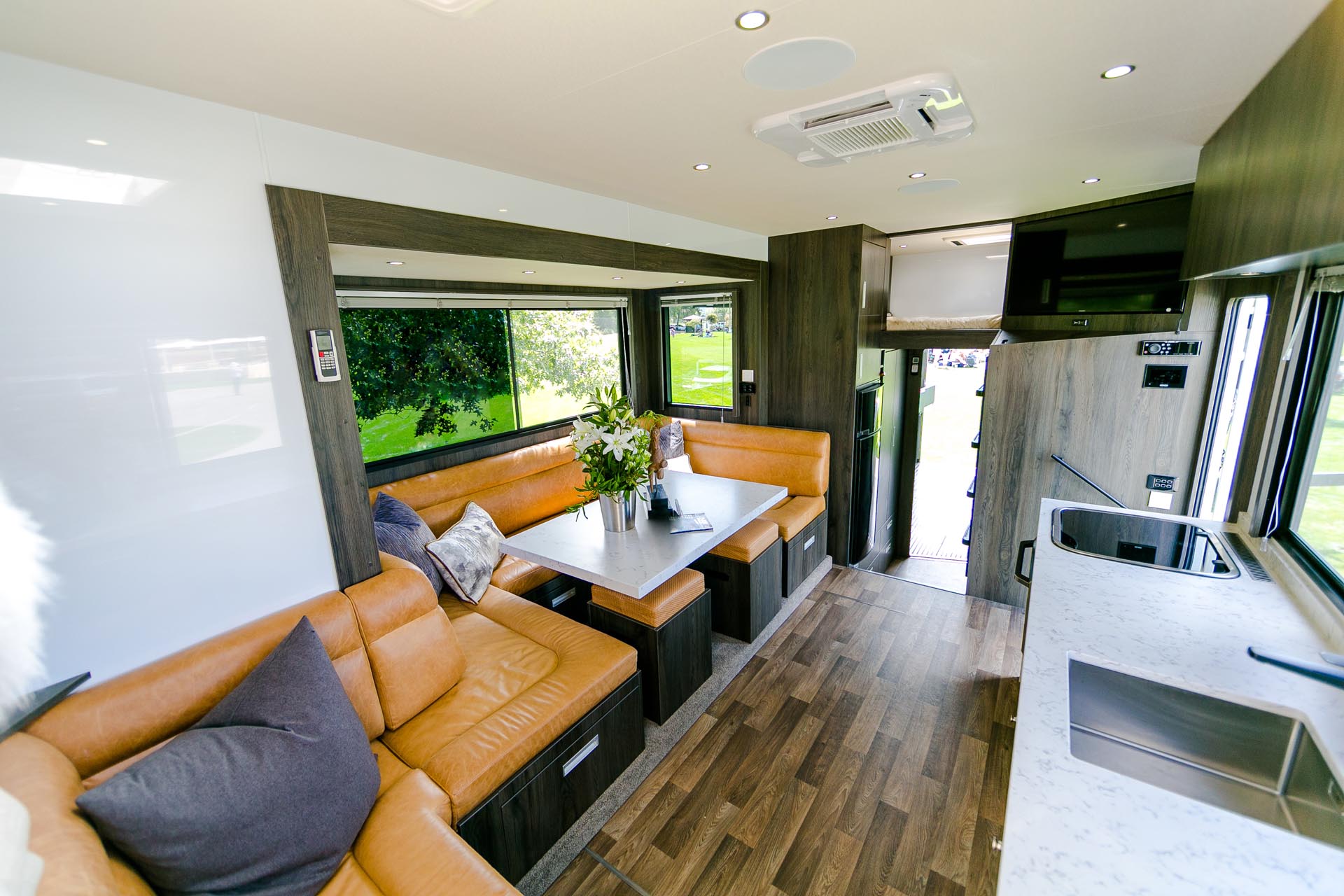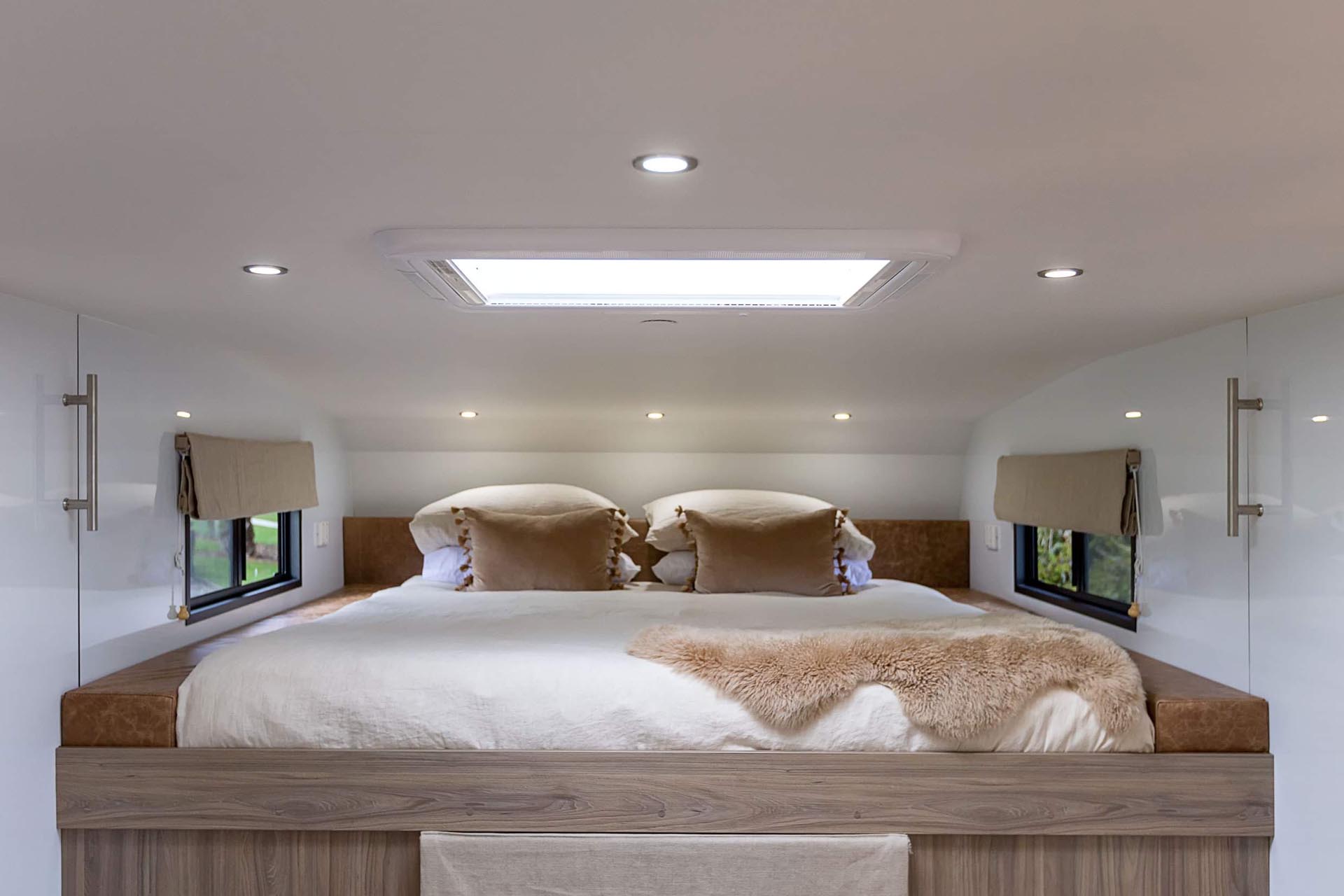 Highlights
Right hand slide out - table and seating for 8 guests which converts automatically to a double bed
Luxurious super-king Luton bed above cab
Luxurious super-king Luton bed above cab
Additional couch with under drawer storage
Push button automatic entrance step with courtesy lights
Window dressings/ macro soft upholstery / bedding / linen / throw cushions
Laminate cabinetry and Formica bench and table surfaces
Combination convection oven-grill-microwave Large fridge / freezer
Television with automatic satellite dish
Fusion stereo with 2 living and 2 horse bay Sonance speakers
USB-C charging ports / 230-volt power points
Fly screens and roof mounted air vent
Spacious bathroom with separate shower, toilet and vanity
Cab crawl through and sound proofing
Cab reupholstered sleeper squab
Certified seatbelts for 5 people includes 3 in cab Czone digital control and monitoring system with touch screen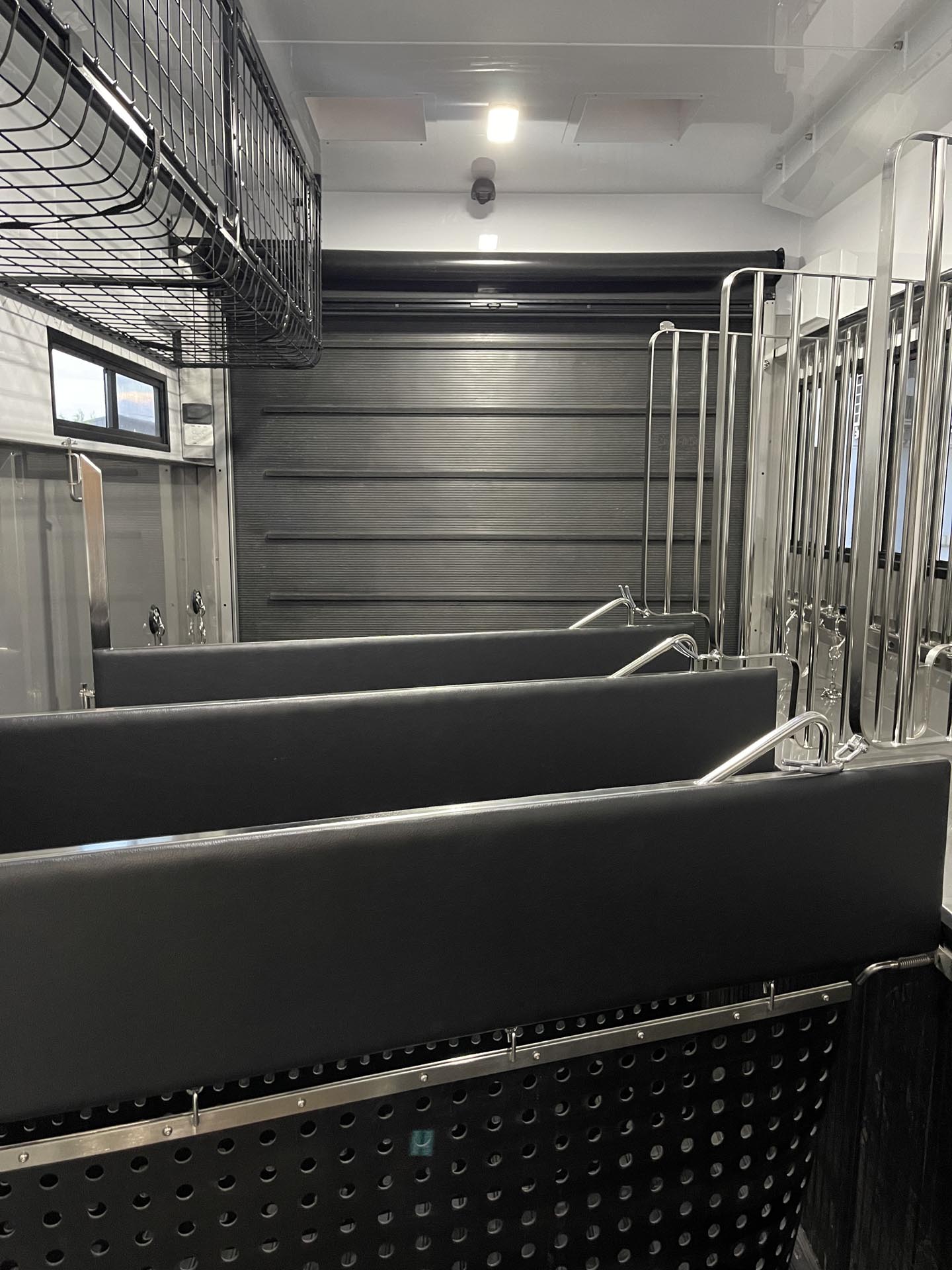 Highlights
Interchangeable stainless steel partition system with padded divider gates
Full stainless steel horse bay fittings and surfaces
Durable rubber to floor/ manger/ internal walls
Enclosed cover storage rack Retractable hose
Heavy duty rubber cleated ramp surface Horse bay and reverse cameras and monitor
Remote control ceiling fans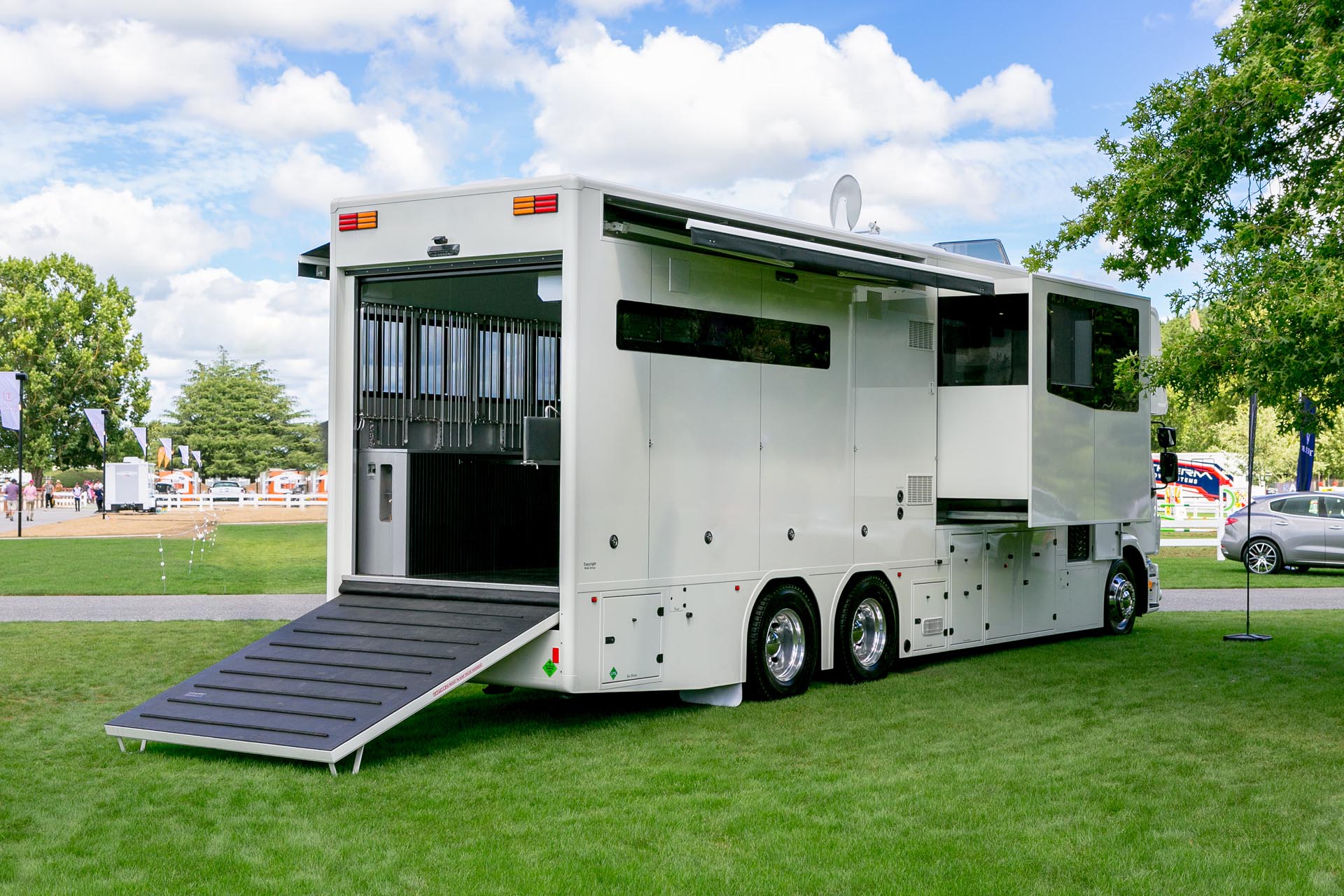 Highlights
Hydraulic luton/tail gate flush mounted one touch tail gate lift system
Exterior 6 metre motorised awning with 3 metre projection
Stainless steel wheel trims
Stainless steel wheel trims
Exterior full height tack locker to carry 6 saddles
Exterior skirt line storage lockers Exterior LED work lights
Mastervolt power supply components, with mains and generator input, 3kw inverter, large lithium ion battery capacity
Quiet Dometic 2.9kw generator with system control
Over 650 litre water capacity